ABOUT JOMOMMA
NAME: Joe Cordell
AGE: 48
RESIDES: HUTTO, TEXAS
STATUS: BACK TO WORK IN A 9-5 CRAPPY JOB
SAILS: CURRENTLY SAILING A DESK 40 HOURS PER WEEK
SOME PICS OF MY OLD BOAT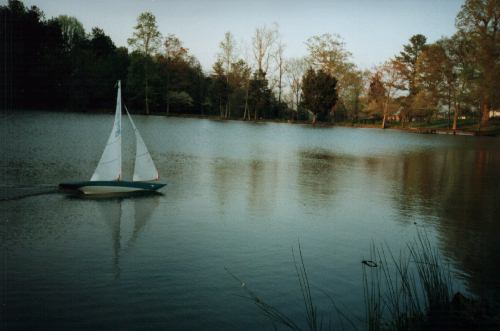 #1286
THIS IS A HICKMAN HULL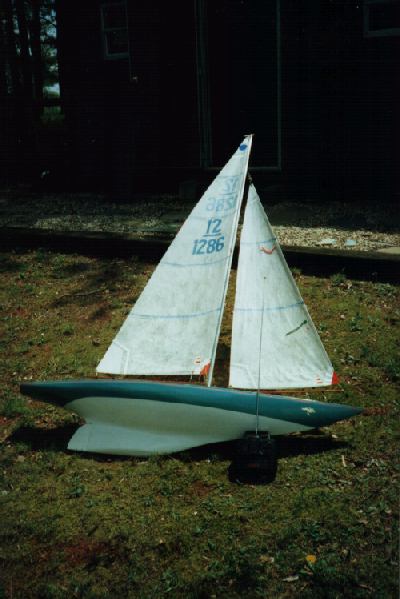 OVER ALL LENGTH= 59 INCHES
MAST HEIGHT= 6 FEET
WEIGHT= APPROX. 23 LBS.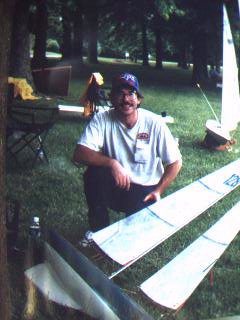 A SHOT OF ME WHILE AT ELON REGATTA '99'
This is my first r/c sailboat. I had moved into a nice little cabin on it's own lake in Mebane, N.C. and thought this would be the perfect hobby to keep me occupied in my spare time. I found that the nearest club in the area was right next door in Burlington, N.C.

When I arrived at the site, I quickly met the members there and talked to our Commodore, Frank Angel. Frank has been an AMYA member since the very beginning, and was instrumental in creating the PIEDMONT MODEL YACHT CLUB. I quickly was thrown into things when Frank handed me his controller. I couldn't believe how nervous i was. You would have thought I was the pitcher of the seventh game of the world series!! Needless to say, I did pretty lousy!! That did not deter me from the hobby, and the search was on for a boat of my own.

I spent the next two weeks searching and pricing EC-12's from various manufacturers. I thought it was great when, at the next meeting of PMYC, I met a member who had a new boat and was going to sell his old one. I soon made a trip to his home and was the proud, yet totally unskilled owner of the #1286. I was also relieved to find out that it fit into my car, though i gotta say that getting the sails in was a bit tricky!!!

I have been sailing now for nearly a year. I still really stink, but i have a lot of fun. I'd even went to a couple regatta's in the Carolina Cup, which is held in the southeast. Needless to say my showings were poor, but hey, someone has to take up the rear.

Keep going, theres still more to come on the other pages

HOME
EC 12 PICS AND STUFF
sailing schedules for PMYC and regatta schedule
LINKS
ATLANTA
NEW PICS FROM SUN CITY S.C.
E-MAIL THIS SITE BY CLICKING HERE